If you're on the hunt for a UX/UI designer, chances are you've prepared a nice job description and are about to post it and wait for the great candidates to start rolling in. Well, I hate to burst your bubble, but before you get the process started, we need to have a little talk.
Let's be practical, a designer is not a magician who can solve all your business problems with their design wand. While designers can really transform digital products, they are not a jack of all trades. Some business/product owners mistakenly think that a single designer can:
Understand business needs
Have marketing vision
Empathize with users
Use analytical skills to define problems
Design app structure, workflows, user journeys/flows, and personas
Write/conduct user research
Sketch and wireframe different ideas
Test wireframes
Design world-class visuals
Draw icons
A/B test designs
Dice and slice the winning design
Export SVG
Design app architecture, build database schema, write and debug code
…and do the dishes while they're at it
I'm just scratching the surface here. I've been designing digital products since 1996 (my first website design ever was when Zuckerberg was 12 years old!), so what I'll try to help you identify next is the type of designer you need. Yes, there are several types.
Two Types of Designers
These days the distinctions are a bit fuzzy when it comes to who does what (sigh, I miss the 90s), but to make things easier I'll help you define two general types of designers regardless of what they call themselves (or what the market calls them).
Type 1 – The Logician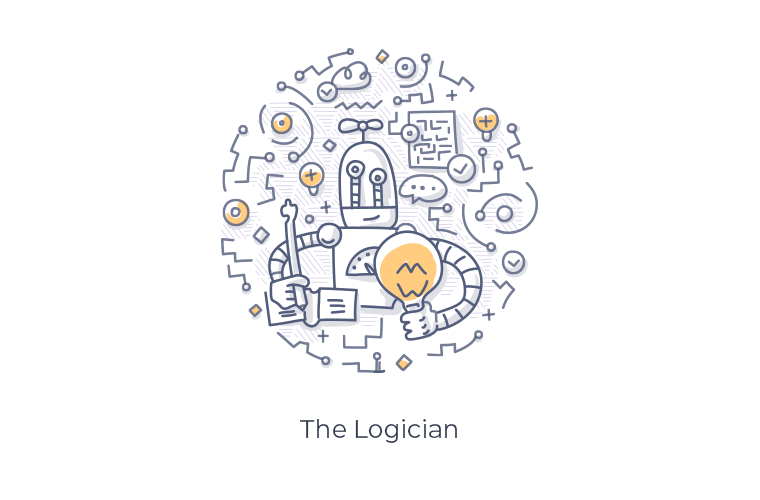 This type is good at making your users' lives easier. In other words, they can make your product's interface intuitive, interesting, and predictable. Let's call this designer Jessica.
Jessica has a high IQ and is analytical by nature. She's more objective than subjective. Jessica focuses on user behaviour and UI patterns rather than art and artistic creativity. She reads a lot about usability, HCI guidelines, and UX research. She knows how to play with user interface components (navigation menus, breadcrumbs, form fields, floating action buttons, tiles, etc.) like Tetris – and wins.
Jessica's work includes talking to product owners, understanding the target audience, clearly defining business goals, then achieving those goals through research and interaction design. At my design firm, webkeyz, we call this Interaction Design, or IxD.
Type 2 – The Artist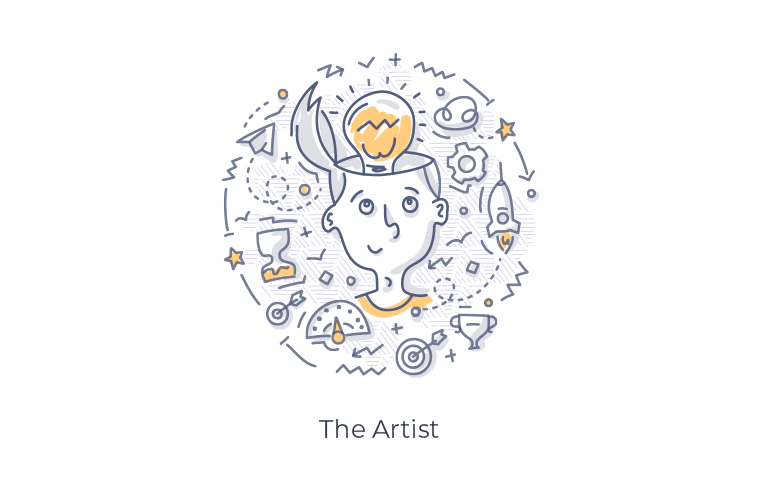 This type is really artistic and can make your app look slick and sexy. Let's call this one Chris.
Chris was born to be an artist. He's not from this planet. He lives in a harmonious world of colors, alignment, and beauty. Whether he was taught color theory at design school or it just comes to him naturally, he knows how to pick colors, hues, and saturation and combine them to create the perfect mix! Maroon, cherry, crimson, and scarlet are four different colors to him (the rest of the world would call those 'red').
Chris can literally spot an icon that has been misplaced by one pixel. He knows the ins and outs of designing for digital devices, be it a desktop browser or a smart watch. He knows his way around fonts more than you know your kids (Chris calls it typography). Font family, weight, size, kerning, and ligatures are music to his ears. At webkeyz, we call Chris a Visual Designer.
Visual Designers: Telling the Good from the Bad
Art is subjective. What you deem beautiful could be horrendous to someone else. But still, there are ways to tell a good Chris from a bad one. It's a bit tricky, but not impossible:
Creativity. His portfolio matches your taste or at least the taste of someone you trust. If you're not the artistic type, find someone who is, then listen to what they say about Chris's portfolio (you can safely ignore your own opinion in this case).
A good Chris communicates well through design. Every component of his design has a reasoning behind it. A good Chris would always have answers to any "why?" questions. He knows why he put that arrow there or why he chose that particular color palette. A bad Chris would never have answers, and would easily lean towards changing design elements . If asked for a reason for his choice, he would often respond with things like "Umm…no reason, I just like it. Want me to change it?".
Passion and enthusiasm. When a great Chris talks about his designs or other designs that he likes you can feel it in his voice and body language. It goes the other way too. When a good Chris sees a bad design, he regards it as a personal insult…well without getting too crazy. A bad Chris would usually be indifferent. Design for him is just something he does to pay the rent.
Uniqueness. A great Chris has his own style. He puts his soul into his designs and it's clearly evident. A bad Chris makes generic designs that look like they've been downloaded from a freebie website.
Bonus point: I have found that good designers usually have issues with punctuality. Just kidding (or am I?).
Now I can't reiterate this enough; please do not make the mistake of trying to hire one person to do the work of both types of designers. You might think that you're beating the system, but what you're actually doing is setting yourself up for mediocre designs that lack professionalism and authenticity.
Set Up a Healthy Design Environment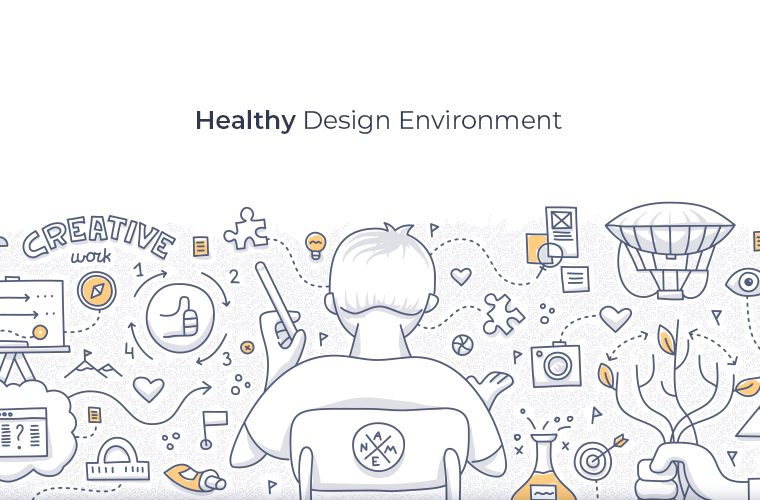 Getting the right kind of designer is only half of the story. The rest of the responsibility actually lies with you as a business/product owner. I've seen lots of good designers fade at companies that fail at providing a professional, nurturing work environment. To make sure your good Chris and Jessica thrive, you need to:
Make sure you set up the right workflow/process. If you don't have a clearly defined workflow, your designer will be lost and might end up spending more time being confused than actually designing.
Realize that managing creative people is inherently different than managing non-creative types. Unless you have design experience, do not try to manage them on your own.
If you have any more tips or would like to share your thoughts, please join the conversation on any one of our social channels.