Many businesses' idea of competitive research comes from a market research perspective, but few are aware that UX design also requires conducting research of competitors.
Market research is crucial for product strategy, but it isn't a substitute for UX research: both types of research are required for a successful product. In this article we discuss research conducted on competitors from a UX perspective, highlighting the different types of research and the business value conferred by this practice.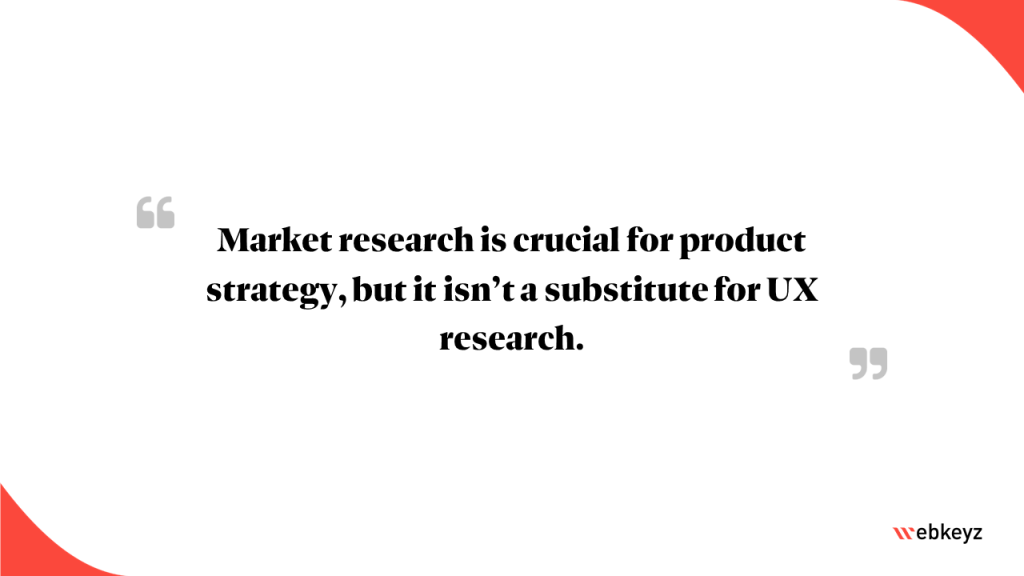 What are UX Competitive Analysis and Competitive Research?
When it comes to looking at your app's competitors in the market from a UX perspective, there are 2 main types of research that sound very similar: Competitive Analysis and Competitive Research.
Both types involve studying and analyzing the user experience offered by competing products, services, or solutions in the same market or industry. The primary goal of both types of research is to gain insights into how other companies approach UX design, what works well for them, and where there may be opportunities for improvement or differentiation in your own UX design efforts. This analysis helps UX researchers, designers, and product teams understand their competitive landscape and make informed decisions to improve their own product or service.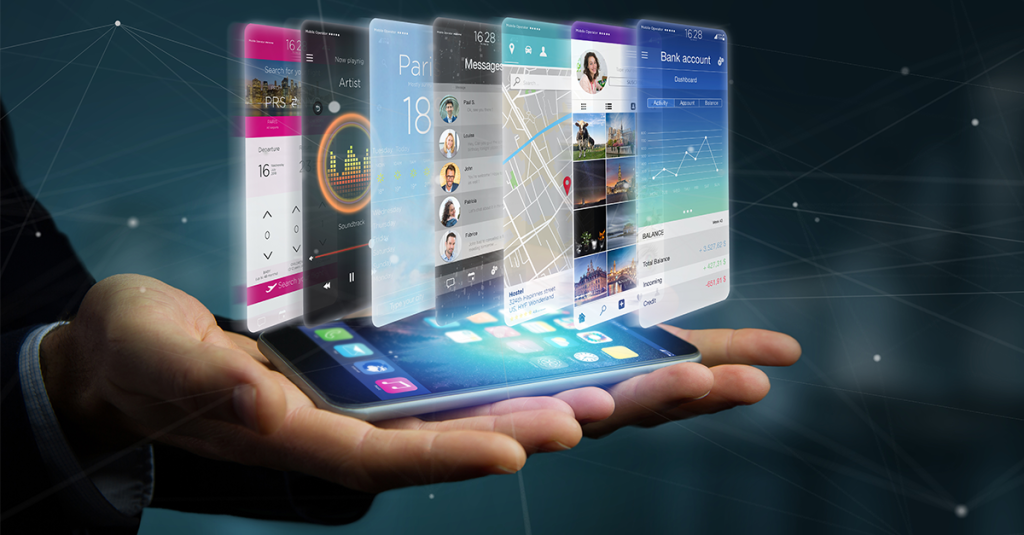 We are—of course—discussing competitive UX research & competitive UX analysis. Other disciplines, such as market research will have these same names to denote slightly different activities and outcomes, though an overlap between findings is naturally inevitable.
What's the Difference Between Competitive Analysis & Competitive Research?
"Competitive analysis" and "competitive research" are related terms that are often used interchangeably. We at webkeyz, however, use them to denote different scopes with differing activities and outcomes. For us, both involve gathering information and insights about competitors in a market, but the focus and depth of the investigation may vary.
Here's a breakdown of the key differences in how webkeyz conducts competitive analysis and competitive research.
A. Competitive Research:
Competitive research involves identifying competitors of the product or application, analyzing their features, comparing which features are common among competitors.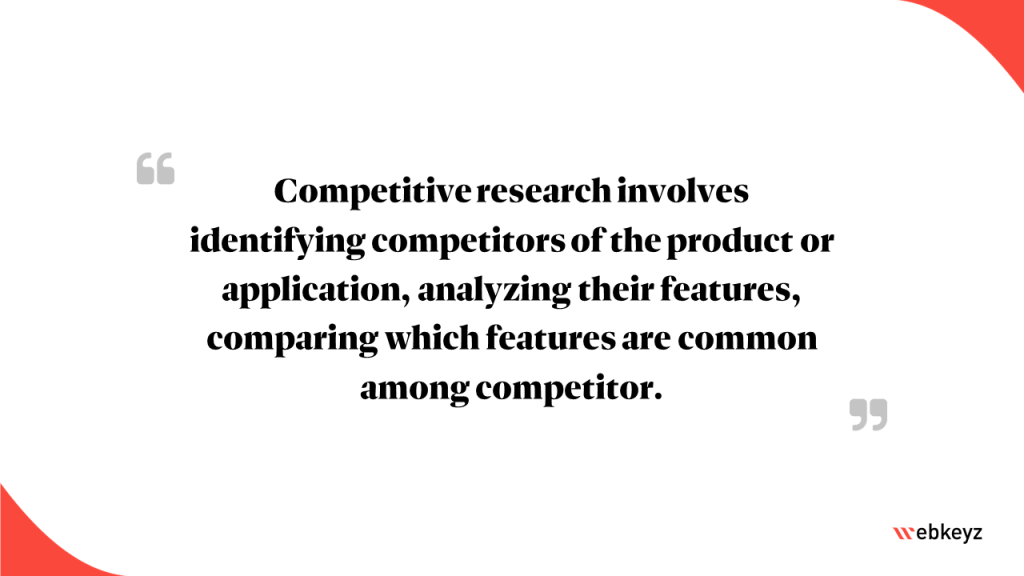 Focus: Competitive research looks from a broad perspective. It involves investigation of many competitors' products, market positioning, strategies, and the features included in their app. It usually includes a SWOT analysis, highlighting the strengths of competitors and how these can pose threats to your own product, as well as identifying their weaknesses and the opportunities created by them for your business.
Purpose: Competitive research aims to provide a holistic understanding of the competitive environment in a particular industry or market. It is used to compare the features of products in the market to identify which features are "must-haves", either because everybody has them, or because they are an opportunity for a competitive edge. It is often used to inform long-term strategic planning, market entry strategies, and product development roadmaps.
Scope: Competitive research is usually less extensive in scope and often takes less time to conduct. It can include both qualitative and quantitative research methods and industry analysis. And since the goal is to broadly understand the competitive landscape for your product, it usually involves most—if not all—product and apps found to compete with yours.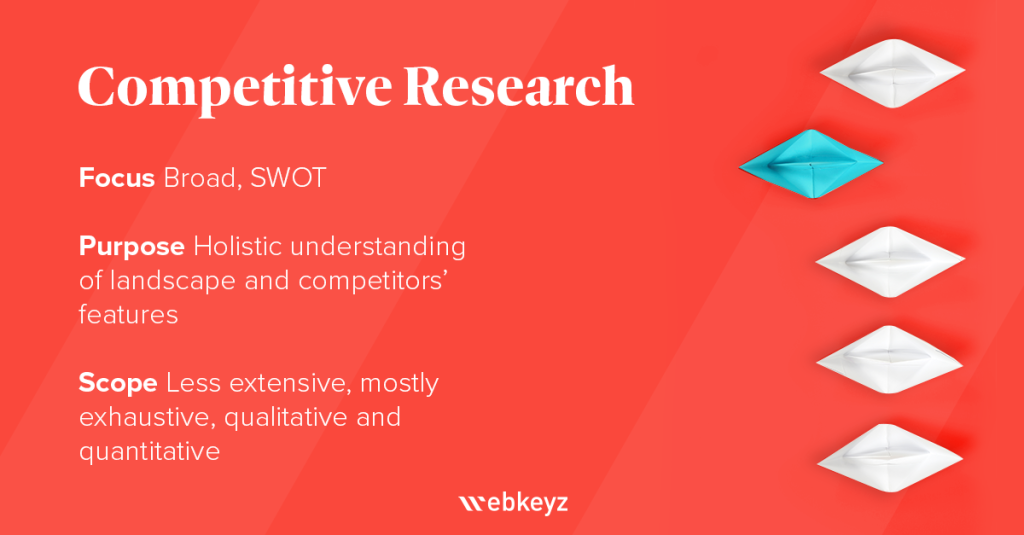 B. Competitive Analysis:
Competitive analysis is a more nuanced approach. It's a deeper look at key competitors, rather than a broad overview of everyone in the market, with a focus on comparing usability through heuristics.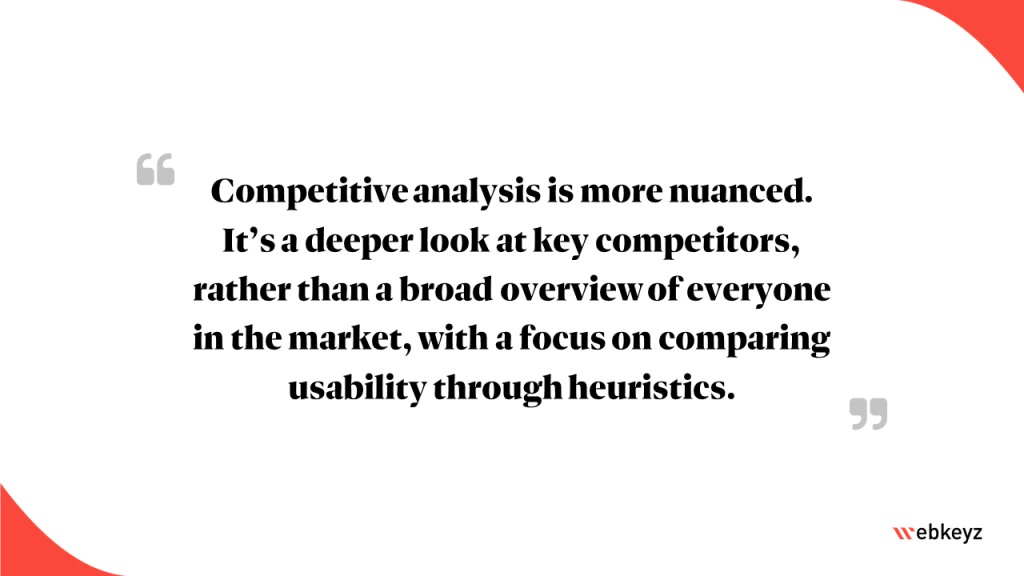 Focus: Competitive analysis often implies a more structured and systematic, in-depth examination of specific aspects of competitors and their offerings. It typically involves a more detailed SWOT analysis, as well as a heuristic evaluation for userflows across all competing products.
Purpose: Competitive analysis is often conducted with a specific goal in mind, such as understanding how a competitor's usability in specific flows compares to your own as well as evaluating the entire user experience of competing products. It aims to provide actionable insights for making strategic decisions.
Scope: Competitive analysis is a more in-depth, comprehensive UX research method. It involves looking deeply at the user experience of competing products and conducting heuristic evaluation for each competitor. The heuristic evaluations are then pitted against one another to analyze and identify which of the competing applications has a more robust user experience, and which features are contributing to that. Since the analysis is deeper, it is usually conducted on fewer competing applications.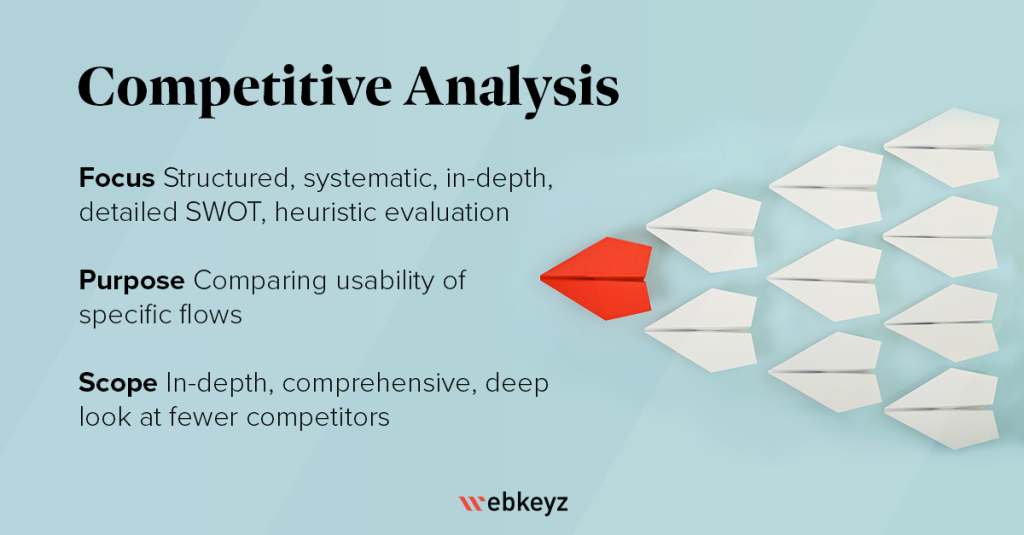 Choosing between Competitive Research & Analysis
Competitive analysis is a more focused examination of specific competitive factors, often with fewer competitors and a defined purpose. Competitive research, on the other hand, encompasses a broader and more comprehensive investigation of the competitive landscape and may include a range of research methods and data sources, as well as attempting to be exhaustive of all apps in the market.
The choice between competitive analysis and competitive research depends on the specific goals of the research and the depth of insights required to inform strategic decisions.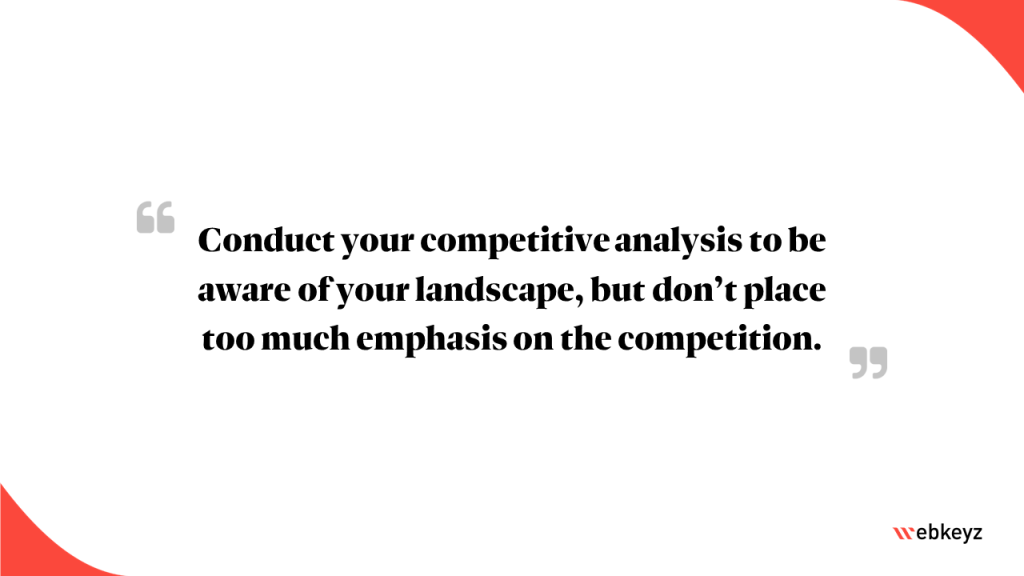 In many cases, both approaches are used in combination, and added to other research methods (such as user interviews) to provide a well-rounded understanding of the competitive landscape and help define product strategy.
What Is the Business Value of Competitive Analysis & Research?
Competitive analysis and competitive research offer several significant benefits for your app that can contribute to the overall success of your business. Understanding your competition and analyzing their user experience gives you the edge you need to improve your UX to offer a superior, more attractive application. Here are some of the key business values of conducting competitive analysis and competitive research: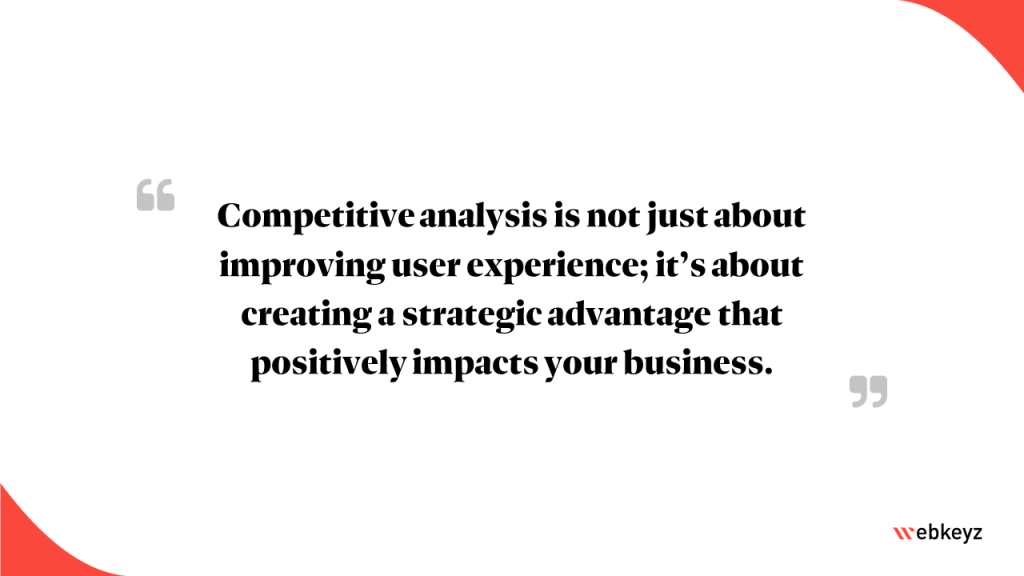 Clearer Product Strategy: By understanding how your product's user experience compares to competitors, you can identify opportunities to differentiate your offering by adding features that they don't have, or by tweaking the ones they do have to make yours better. Improving your UX in areas where competitors are weak can make your product stand out in the market and attract more customers.
Higher User Satisfaction: A superior user experience will make your users love your product, leading to higher satisfaction. If you constantly keep users happier with your product than with your competitors, then your happy users are more likely to use your app, pay money on your platform, be loyal, recommend your product to others, and provide positive reviews and testimonials.
Reduced Churn: Analyzing the user experiences of your competitors can help you identify pain points and areas of dissatisfaction that lead users to switch to other products. Addressing these issues can reduce churn and increase customer lifetime value. You don't want to spend all that money to acquire users, only to have them leave because they're dissatisfied!
Increased Conversion Rates: Improving the usability and design of your product based on competitive analysis findings can lead to higher conversion rates. Users are more likely to complete desired actions (e.g., sign-ups, purchases) when they find the user experience intuitive and satisfying. This means that your monetization strategy will essentially depend on outmaneuvering your competition by thoroughly analyzing their apps.
Better User Engagement: If your user experience is more engaging than competing apps, users will keep coming back to your product and will spend more time using it. This can lead to increased user engagement, which is often associated with greater conversion, higher revenue, and greater user loyalty.
Enhanced Brand Reputation: Offering a superior user experience can enhance your brand's reputation and credibility. Customers tend to trust and prefer products that are easy to use and are visually appealing. A positive brand image can lead to greater brand loyalty, which could result in greater sales.
Signals for Innovation: Competitive analysis can also lead to innovation in your product. By analyzing features, design patterns, or approaches used by competitors, you can quickly become aware of shifts in the landscape that might require you to pivot and innovate. Stay attuned to what the competition is up to pick up on the signals that you need to innovate.
Data-Driven Decision Making: Competitive UX analysis provides data-driven insights that can inform product decisions. This reduces the risk of making subjective or uninformed choices and increases the likelihood of successful product development.
Market Expansion: Understanding the user experiences of your competitors can help you identify new market segments or niches where your product can excel, potentially leading to business expansion.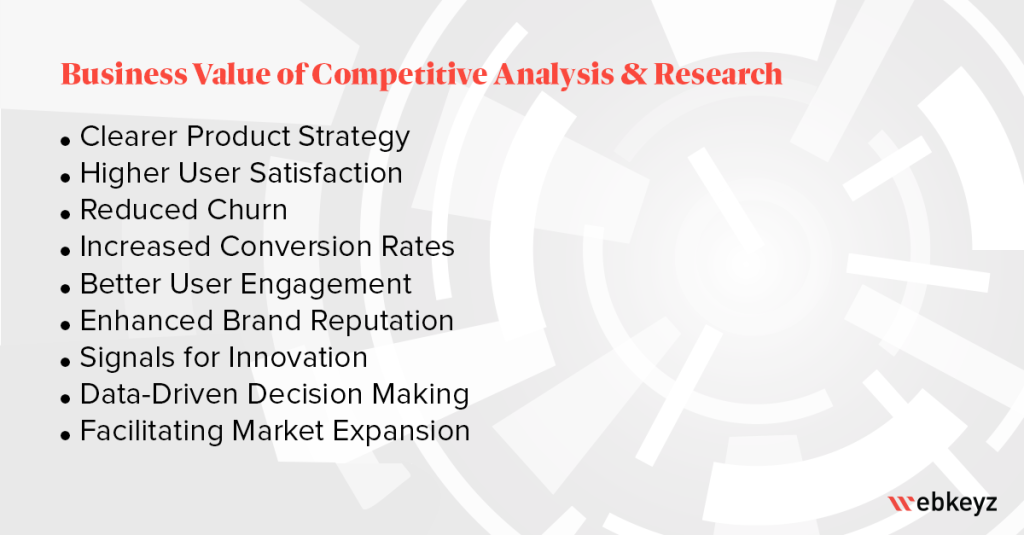 Competitive analysis is not just about improving user experience; it's about creating a strategic advantage that positively impacts your business. By continually assessing and enhancing your product's user experience in relation to competitors, you can drive growth, increase customer loyalty, and ultimately achieve better business outcomes.
Competitive Analysis & Research Are Not One-Time Gigs
You'll notice that many of the benefits of competitive analysis and research won't occur if you just conduct them before product launch. These types of research need to be conducted periodically to provide a steady stream of insights that could guide product strategy and inform the product's roadmap. We recommend conducting competitive analysis and research every 1-3 years to stay on top of the competitive landscape, but the frequency can vary widely depending on how fast your industry changes.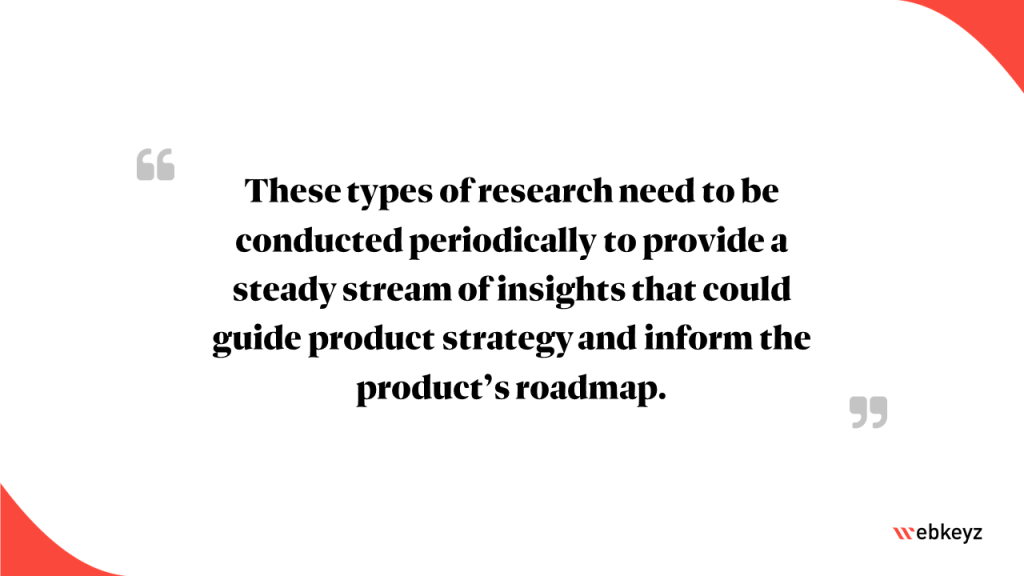 The Pitfall of Being Too Competitor-Focused
We're promoting the value of competitive analysis… but good business is not about copying your competitors! Studies show that simply following whatever your competitors are doing can hurt your profitability. It can even blind you to capitalizing on your own strategy and make you miss out on threats coming from far afield.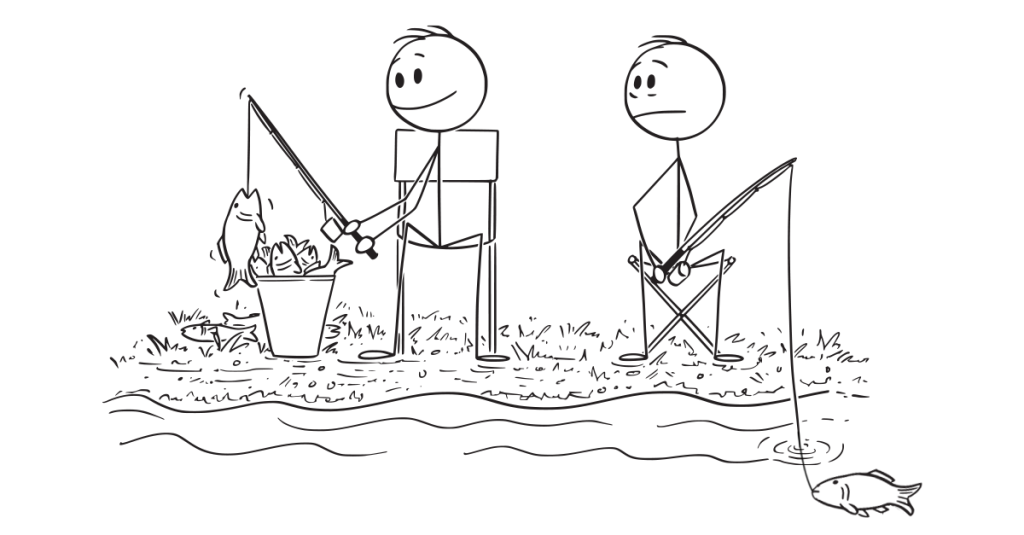 Some businesses were too competitor-focused and were blown away by disruptive entities that didn't even compete with them. These businesses are now dead!
But also, being oblivious to what your competitors are doing is a losing strategy. So, conduct your competitive analysis to be aware of your landscape, but don't place too much emphasis on the competition. Crystallize your strategy and do your own thing.
Your Findings…
If UX-focused competitive analysis and research were not part of your product's launch, then you basically have no measure of your product's usability against the competition. Whether you're launching a new product or already have a running app, competitive analysis and research will help you benchmark your app's experience to guide your strategy and help you best the competition.
But remember not to be too competitor-oriented.
Know what they're up to, but you do you.